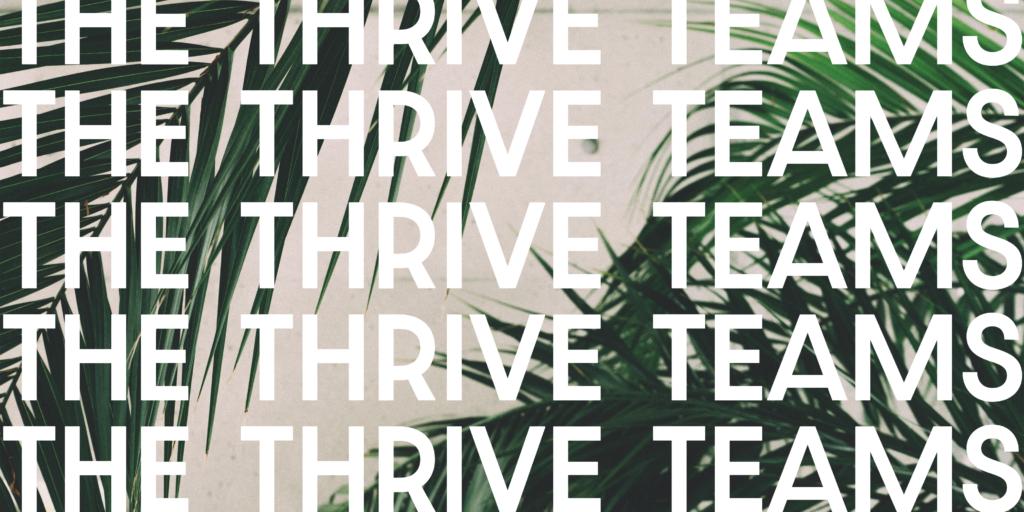 THE SRV TEAM
The SRV Team exists to help equip and empower the Thrive ministry teams in order that ministry and worship can exist with Kingdom purpose. The SRV team typically consists of the ministry team captains along with a few other individuals. The SRV team meets regularly to plan for the ministry as a whole and the needs of the ministry teams. This team truly desires to serve the ministry through servant leadership.
THE HOUSE TEAM
We view Thrive as a family of faith. Therefore, we want our family to thrive well in our house of worship, whether it is a building or other spaces. The House team strives to help create an environment that is welcoming and caring, all while pointing to Jesus. This team shows up ready to create that environment which can include greeting people, preparing refreshments, creating spaces, etc. This team understands the importance of a welcoming attitude and considers it a privilege to often be the first contact that someone may have when arriving at a Thrive gathering.
THE PRODUCTION TEAM
The Production Team not only helps make our weekly worship gatherings happen, but also other worship events such as the Canopy and Summit. This team is always learning and improving ways to run audio, lights, and visual media. This team is responsible for making sure all media and production runs smoothly and creatively. The Production Team strives for excellence in their efforts to help point others to Jesus by using audio and visual means.
THE CREATIVE TEAM
The Creative Team seeks to put the beauty of God on display. We were made by a creative God, and we were made in His image; therefore, our desire is to exemplify His creativity through music, design, creative writing, photography, videography and other arts. We boast in the Father by exploring and practicing the creativity He gave us. We delight in the Father's goodness when we put on display His glorious beauty by using the gifts and talents He has so generously shared with us. The Creative Team works closely with all the Thrive teams.
THE ACCESS TEAM
The Access Team exists to help stand in the gap for students and young adults. This team does this primarily through prayer. This team also stands ready to speak with individuals who need a prayer partner or someone to help process life. An access team member is ready to sit and discuss items such as life issues, ministry calling, faith in Jesus, how God was moving in worship, etc. This team is available post worship gatherings for these conversations and prayer times, as well as throughout the week as the team continues to pray for specific needs and requests.
THE REACH TEAM
The Reach Team is committed to extending Thrive's ministries to the young adults of our community. One way this is accomplished is Lift, Thrive's bus service to Gordon State College residents for our Sunday and Thursday gatherings. The Reach Team also serves as a connection for other young adults in our community and church, including FBC graduates who are pursuing educational and vocational opportunities elsewhere.